Aquarelle, florists since 1987
In 1987, Aquarelle opened its first shop on the rue du Commerce, in the 15th arrondissement of Paris. Within a few years, Aquarelle had built a network of flower shops in Paris and the provinces and had already become a reference amongst florists. Bouquets to keep or to give, in simple bunches or harmonious combinations, country-style bouquets combining flowers with fruit or woodland berries, delicate, fragrant compositions - our ideas and expertise quickly made Aquarelle's shops the success they are today.
Our shop in Paris :
Aquarelle
36 avenue Hoche
75008 Paris
More than 20 years of online experience
In 1997, Aquarelle opened its web site, delivering flowers all over France. Our high quality bouquets and reliable delivery times ensured the success of this service, which is now the European market leader. Today, with 20 years of experience on the Internet, Aquarelle's web site Aquarelle.com, u an exceptional service, as much for the impeccable quality of our flowers and the originality of our bouquets, as the speed and reliability of our deliveries and the range of services provided. Combining floral craftsmanship with the latest Internet technology, Aquarelle is delighted to share its passion for flowers with you through a highly original collection of bouquets.
The Aquarelle Plus: The bouquet delivered corresponds exactly to the product photo shown on our site. And to prove it, Aquarelle sends the purchaser a photo of the bouquet dispatched for them taken just before it was left our premises!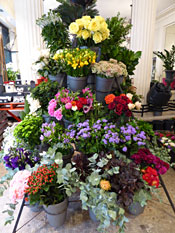 The Aquarelle Gourmand range of chocolates and confectionery
In 2005, in response to our customers' wish to send other types of gifts, Aquarelle launched Aquarelle Gourmand, offering a unique range of delicious artisan-made chocolates and fruit delicacies.
See Aquarelle's collection of chocolates
Les Natures d'Aquarelle Scented Candles
In 2013, Aquarelle expanded with a new collection of scented candles - Les Natures d'Aquarelle - for a fabulous journey of the senses through a range of floral, botanical and woodland fragrances.
See our range of scented candles
Since 2016, Aquarelle has been offering certified Fairtrade roses, grown using environment-friendly methods. We care about the origin of our flowers and select our partners meticulously for their commitment to the improvement of working conditions for horticultural farm workers and sustainable .
Find out more about Aquarelle's Fairtrade roses
Bouquets of the Day, made from flowers grown in France
In 2017, Aquarelle launched a new offer. Our "Bouquets of the Day" are composed exclusively of flowers grown in France uneder the label "Fleurs de France".